Subscription Plus Fishing Member 2017
Deps
Annual Membership Subscriptions
Affordable from 01 February 2017 to 28 February 2017
Installment payment service available for customers residing in Italy, France and Spain
Log in or register and provide your destination address to find out the shipping cost
Description
The 2017 Plus Fishing Member subscription (or renewal from 2016) starts from 01 February and ends at 23:59 UTC+1, 28 February. The membership fee is 35 € + the cost of shipping, which depends on the destination country.
How does Plus Fishing Member work?
Blade Hustler is the 2017 Plus Fishing Membership enrollment gift!
The Blade Hustler is a single swisher performing a bait fish with its three elements: waterflow wave, flashing, and sound. The Colorado Blade equipped in its tail amplifies these elements and increases appeal. Further, its Spring Weight System loaded in the head gives vitality micro vibration that will fascinate bass.
BODY FORM
A 125mm minnow-shaped body. Its floating posture set up to be diagonal attracts bass even while paused thanks to its flashing element and takes into bite only with a single action. Hook size: # 4
PROP WITH BOSS
The prop with boss catches water and turns smoothly also in slow retrieve. Producing waterflow and pulling wave, the prop sound will reverberate.
BLADE
Adopts Colorado 3.5 / Silver; a custom blade that produces wide and torque vibration. At slow retrieve it flickers with fluctuations, while at fast retrieve occasionally declines balance with its torque spin directs a moment of bite.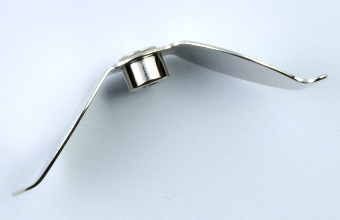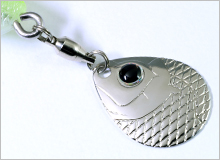 SPRING WEIGHT SYSTEM
The Spring Weight System equipped in the head produces knocking sound from its inner wall and vitality micro vibrations.
These products are available exclusively to members and affiliates who sign up to the Member 2017.
*Please note that the sale of some products may be suspended without notice.
*We will provide notice of periods of sales via newsletter sent directly to the members, social networks or blog. Please note that we will not respond directly to requests for information that possibly we receive..
Subscribing Plus Fishing Membership is an additional advantage: the acquisition becomes 1.5 points instead of 1. This enables the Plus Fishing Members to accumulate points more quickly by ordering the products from our online shop. For further information, please see Plus Fishing Point Program.
---
The images may differ from actual colours depending on the digital resolution of your pc or mobile. Thank you in advance for your understanding.
The lure will be your privilege when you enroll our web membership. The delivery will be after starting this program (approximately from 2017.05.15), therefore we ask your patience until then.
---
Customers who bought this item also bought
---
Similar items in Annual Membership Subscriptions
---
Your recently viewed items