DRAGGIN' BANCHO 3.5 70g
Evergreen
Hard Baits

,

Egi
Immediate response toI sea state changes. The offshore Bancho with results.
SIZE: 3.5号
Weight: 70.0g

| | |
| --- | --- |
| Field | Salt water |
| Tecnich | Eging Game |
| Predator | Squid |
Log in or register and provide your destination address to find out the shipping cost
Variants DRAGGIN' BANCHO 3.5 70g
Description
The DRAGGIN' BANCHO 3.5 from EVERGREEN is an egi specialised in boat egging produced by Norihiro Shigemi, the sovereign of the egging.
The four charactereistics:
1. Immediate response to sea state changes; no need to add/change sinker.  Its large selection of weights allows you to immediately change and launch the egi main body, thus, reply immediately to the changes of sea state, you won't miss the chance.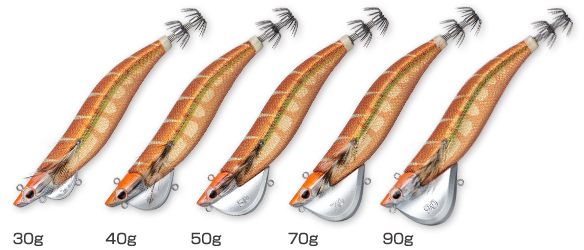 2. Less trouble; a sinker with seamless body, stable posture, best weight balance for action.  No snagging, no tailing.  Less likely to collapse in the ocean bed.
3.You know and keep the range; its head shape and line eye positioning allow your to feel the strength of water resistance and the tide range.  Also thanks to the resistance, the DRAGGIN' BANCHO does not float excessively so that you can keep the range.
4. Customizable; you can handle delicate weight controls thanks to support sinker eyes placed in front and rear of the sinker.  Shigemi's style is to equip assist hook in the rear to hunt squid and fish simultaneously
---
Customers who bought this item also bought
---
Similar items in Hard Baits
---
Your recently viewed items