LAST ACE 75
Evergreen
Soft Baits

,

Soft Swimbaits
LAST ACE 75: THE LIVING BEING TO BE ATTACKED
LENGTH: 7.5cm | COUNT: 8

Description
The EVERGREEN LAST ACE 75 is a scret bait. Fukushima has hidden for years this realisitic bait; not only its appearance but also its movement is like a real baifish. Directing the escape-like movement, the target won't "eat" but "attacks," according to Fukushima.
Demonstrates awsome power with clear water where you can see the target fish. The glittering with no sinker. Suitable for jig head rig swimming, down shot bottom shake, neko rig shaking.
Fukushima is confident enough to say "I don't use LAST ACE 75 under normal circumstances because I fish too many."
FECO eco tackle authorised.
---
You may also like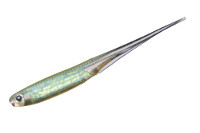 ---
Customers who bought this item also bought
---
Similar items in Soft Baits
---
Your recently viewed items