TOBIZO
Zenaq
Rods

,

Saltwater Rods
Zenaq products can be sold only to customers from: Austria, Croatia, Germany, Italy, Hungary, Slovenia, Spain and Switzerland.
Starting from:
Sales price without tax
828,11 €
The Zenaq Tobizo series were born for fishing mainly from boats or from reef to spinning in open water.
| | |
| --- | --- |
| Field | Salt water |
| Tecnich | Off Shore game, In Shore game |
| Predator | Blue Fish, Leer Fish, Tuna, Giant Trevally |
| Numb. Pieces - Rods | One Piece |
Log in or register and provide your destination address to find out the shipping cost
SPEC
Model
Length
(ft)
Closed
Length
(cm)

Joint
(pcs)

Lure WT
Min~Max
(g)
*for Big Lure WT
Best Match
(g)
LineWT
(lbs)
Rod weight
(average)
(g)
Grip length
(A) - (B) - (C)
Guide
(Fuji parts)
Reel seat size
(Fuji parts)
TC80-50G
8'0"
Offset Handle(spigot)
181
~80
30~70
PE3~4
265
710 - 460 - 200
RG
DPS-20
TC80-80G
8'0"
Offset Handle
181
~110
50~90
PE3~6
295
710 - 460 - 200
RG
DPS-20
TC84-100G for Tuna game
8'4"
Offset Handle
178
~150
60~110
PE4~8
-
840 - 500 - 300
OCEAN
DPS-20
TC86-110G
8'6"
Offset Handle
183
~140
70~120
PE4~7
415
840 - 500 - 300
OCEAN
DPS-22
TC83-150G
8'3"
Offset Handle
176
~180
90~160
PE5~8
405
840 - 500 - 300
OCEAN
DPS-22
TC80-200G
8'0"
Offset Handle
168
~230
120~210
PE6~10
395
840 - 500 - 300
OCEAN
DPS-22
* GUIDE / All models use FUJI titanium frame and SIC ring guides.
* RG-system is for PE-line use only.
Description
ZENAQ Tobizo - Off shore Casting Rod - Cast farther than ever!
It has been 20 years since ZENAQ started making boat casting rods, and 15 years has passed since we released FOKEETO casting series which has created the standard of world casting game. 
And finally in 2017, "the world greatest boat casting rod" is born, named "Tobizo".
We have invested literally "Everything of ZENAQ" into Tobizo, including all technology of 60 years of rod manufacturing and 20 years of off-shore casting experience.
Moreover, by compositing the latest carbon material TORAY T1100G which is said an innovational material in 20 years, Tobizo has obtained overwhelming rod potential.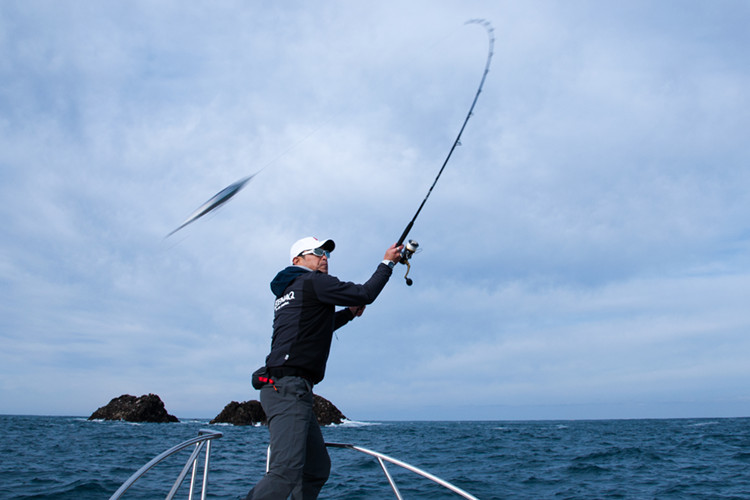 What we have pursued was "Overwhelming Longcast Performance"
The biggest feature of Tobizo is overwhelming longcast-ability. It will definitely bring you a great result than ever before.
Advantages of Longcast
You can cast from distant position where you don't give fish cautiousness. Of course, it's a big advantage when bait boils at far away. You can search fish in wider area and trace a lure in longer distance than fellow anglers on the same boat. It definitely changes the result. For example, if each casting performs 10m farther than before, 100 castings make 1,000m (1km) of difference in total distance. "Conserving angler's stamina" Exhaustion after whole day of fishing is a quite big. Tobizo allows you to cast far with 80% of your power each time, so a number of casting in one day will increase, as a result probability of catching fish also goes up.
Antithetical subjects, Longcast and Lifting Power
A mere stiff rod doesn't bring you an advantage in a fight against a huge target, because a stiff rod will not support you to ease tiredness of your body. Without absorbing a pressure from fish, it will directly convey the pressure to your body.
True meaning of LIFTING POWER
A true meaning of "Lifting Power" is not rod's stiffness; it is "An Elasticity, which an angler can easily give power to the rod, and A Repulsive Power, which the rod itself lifts fish up by converting the given power from an angler". Based on this lifting power, the true casting rod can support the hardest fight against a huge fish that you have to devote all your strength. However, Longcast and Lifting Power are antithetic, if only lifting power is focused, long castability would be neglected.
Super Muscular Carbon Blank
Tobizo finally had overcome this antithetic problem of Longcast≠Lifting power; it's because of a rod making technology of ZENAQ meets the new innovational carbon material of TORAY, TORAYCA® T1100G. TORAY also had solved a big difficulty of carbon fiber, high strength≠high elasticity, at high standard. Moreover, by compositing Nanoalloy® resin, a super muscular carbon blank of Tobizo has been completed.
Advantages of Hexagonal front Grip (PAT.P)
ZENAQ original front grip "Hexagonal grip" is designed to fit human hands. This Hexagonal grip, which can be held easily and tightly, gives anglers huge advantages in the field.
1st Advantage
"You can hold a rod with minimum grip strength" We guess that experienced angler would easily understand how this is effective in the field. A thing running out the most in a long fight or in a very tough fight is hand grip strength, and if it runs out, your power to lift up the rod will decrease drastically. Also when retrieving with big spinning reel, you have to hold grip really tight to do stable retrieving. However the Hexagonal grip allows you to grip very tightly with small power, so it will ease exhaustion of your muscle, then your performance will last longer with more strength. Hexagonal grip is necessary to catch a huge target of record class.
2nd Advantage
"For more precise lure control" When you use heavy lures and make hard lure action, Hexagonal grip helps you to make precise lure control due to stable holding with minimum power. To perform true action of each lure will increase a number of strikes. Since you can save your stamina in lure action, you can concentrate longer time, so eventually a result will be affected in a good way.
TC80-50G for Technical game
Length:8'0"/Lure:30-80g/PE Line:MAX 4 Recommended reel size:SW5000~6000 Targeting yellowtail, tuna, and any other inshore and pelagic species in the 3-10kg (5-25lb) size Detail
The TC80-50G delivers long and accurate casts with the help of ZENAQ's proprietary RG guide system. The rod is primarily used for targeting blue runners, although it can be used for many other smaller inshore and pelagic species. This rod excels in casting lures up to 50g. It has a sensitive tip section enabling you to feel even the slightest of bites.
TC80-80G for All-Round game
Length: 8'0" / Lure: 50-110g / PE Line: MAX 6 Recommended reel size:SW8000~14000 Targeting yellowtail, tuna, and any other inshore and pelagic species in the 7-20kg (15-45lb) size
TC80-80G is the most versatile rod in theTobizo series. Although 80g is the sweet spot whencasting this rod, it throws anything in the 40-110g range extremely well. This rod is equipped with the ZENAQ's proprietary RG guide system, which gets the very most out of the Tobizo's fast-recovering blank to make it ideal for almost any kind of fishing.
NEW TC84-100G for Tuna game
Length: 8'4" / Lure: 60-110g / PE Line: MAX 8 Recommended reel size:SW8000~14000 Targeting tuna, monstrous blue runners, and any other inshore and pelagic species in the 15-60kg (30-130lb) size range.
It excels in the long-distance casting of 60g to 150g lures, and can aim at certain spots in baitball never reached before. In a tuna casting game, even a light lure of about 40g can bring out sufficient casting distance and attractive lure action. It has a butt power that assumes its main targets are 30kg to 50kg tunas. In the field test, it caught yellowfin tuna of over 70kg without issue. In addition, assuming a long-time fight particular to tuna games, it has an ability to tackle large tuna while minimizing the burden on the angler's body. TC84-100G will greatly improve your tuna capture rate.
TC86-110G for Tuna game
Length: 8'6" / Lure: 70-160g / PE Line: MAX 8 Recommended reel size:SW8000~18000 Targeting tuna, monstrous blue runners, and any other inshore and pelagic species in the 15-70kg (30-150lb) size range.
The TC86-110G is the best-casting rod in the Tobizo series, exemplifying the "cast farther than ever before" ethos of the Tobizo series perfectly. The amazing distance is best achieved with lures in the 110g range. Perfect for taking on all types of tunoids, this mode's super high elasticity and potential for distance make it ideal for reaching and subduing even the mighty tuna, despite their incredible strength and speed.
TC83-150G for Tuna & Trevally
Length: 8'3" / Lure: 90-180g / PE Line: MAX 8 Recommended reel size:SW10000~20000 Targeting tuna, GT, and other large inshore and pelagic species in the 20-80kg (50-175lb) size range
The TC83-150G has been fine-tuned to be the perfect crossover GT popping and tuna stickbaiting rod. GT rods traditionally had an extremely stiff tip for working large cupped poppers, while tuna rods have had a more moderate action conducive to ultimate distance and working stickbaits. ZENAQ's twenty years of experience building boat casting rods has taught us to optimize the sweet spot between power and castability. The fact that it is not as heavy as larger GT rods means you can still target these fish without feeling the exhaustion that those rods bring. The TC83-150G casts best with lures in the 150g range.
TC80-200G for Trevally
Length: 8'0" / Lure: 120-230g / PE Line: MAX 10 Recommended reel size:SW10000~20000 Targeting tuna, GT, and other large inshore and pelagic species in the 30-100kg+
The TC80-200G is the strongest model in the entire Tobizo lineup. This rod is used by anglers trying to target giant tuna and record-smashing GT's. The belly section of the rod is perfect for casting 200g lures, while the butt has the power to rip fish out of the reef. The seamless transition of these blank characteristics makes this rod a very effective and versatile big fish tool. The ultra-strong TC80-200G blank is a choice weapon for expert anglers and balanced so well that any angler can wield it with authority.
---
Similar items in Rods
---
Your recently viewed items